This shop has been compensated by Collective Bias, Inc. and its advertiser. All opinions are mine alone. #SnackItAndPackIt #SeasonalSolutions #CollectiveBias
This year we are mixing up the treats we give out for Halloween as well as doing a Dia de los Muertos theme for decorations.
At my local Kroger store I found the Keebler® & Cheez-It® Variety Pack, Pringles® Original, and Keebler® Cookie Mini Fudge Stripes to offer to our trick-or-treaters this year. I visited Smith's but you can visit any Kroger or Kroger banner store. Currently there is a limited-time special pricing on Pringles Snack Stacks and Keebler Cookie and Cheez-It Variety Packs. Use this digital coupon to save on your favorite Kellogg products at Kroger (good through 11/2/17).
I love these products because they are portable and are great for on-the-go usage occasions. They are ready for any time, anywhere. They are perfect for storing in my purse for any snacking occasions. The Pringles Snack Stacks are fantastic because they are single-sized, just enough for you! The Mini Fudge Stripes are great too because they are just mini cookies are striped with delicious fudge made from 100% real cocoa. I love these snacks. They are delicious, easy snacks!
Click the image below to start shopping for your trick-or-treat candy basket.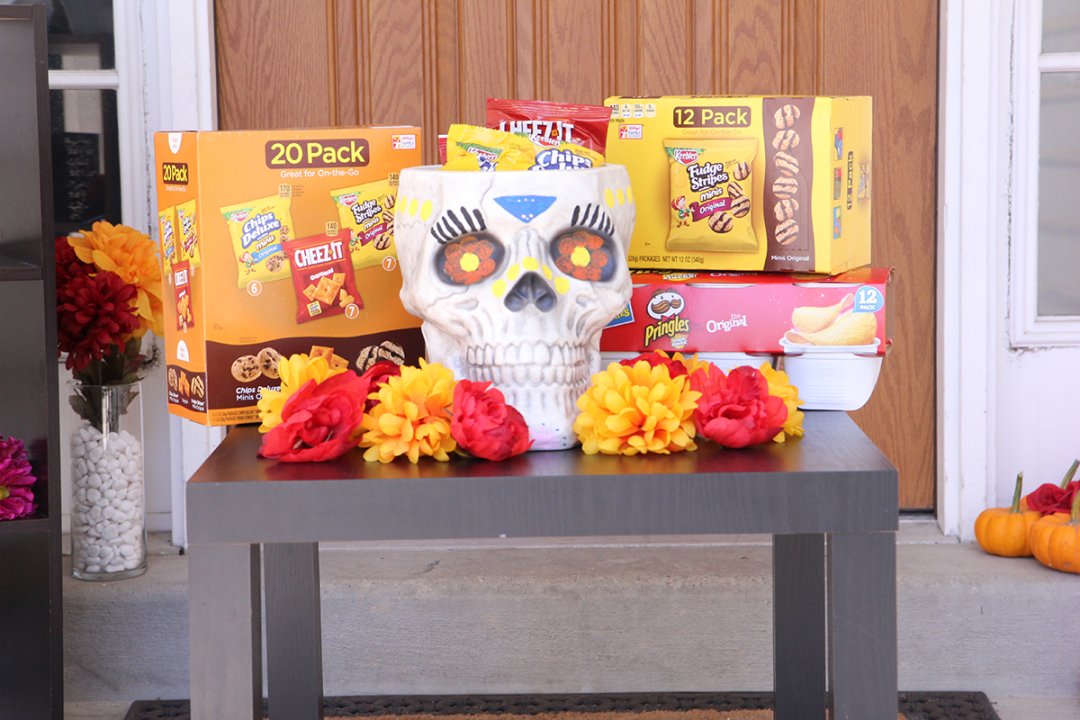 Dia de los Muertos Candy Basket
As I mentioned, we're really excited to celebrate the happiness and beauty that is surrounding the Mexican holiday, Dia de los Muertos (Day of the Dead).
To create our new Day of the Dead theme, we needed a candy basket to match the rest of our decor. After searching and searching for the perfect basket, I decided to make redo a candy basket to make it fit my theme. I knew that I would need paint and some good painting skills.
I ended up buying a skull candy basket but as we know, Dia de los Muertos is about beauty, not scary things so I grabbed my acrylic paint and made my skull colorful.
Things you'll need:
a basket
acrylic paint
paint brush
stencils (optional)
Tips for making your basket with a Dia de los Muertos theme:
Choose bright, vibrant colors. Use multiple colors that will create a colorful display and that will stand out against your basket.
Think floral and shapes. Flowers are usually surrounding the eyes are or the eye shape but the rest is up to you. Add triangles. Add curvy designs. Add circles. Add whatever makes your design beautiful.
Make the entire skull colorful. Even though I left mine white, don't hold back on color. Color the entire basket purple, yellow, blue, orange, or whatever color you'd prefer.
Remember, Dia de los Meurtos focuses on beauty, not terror. Make it gorgeous and happy.
It was a fun activity to color my calavera (skull). I got to make a somewhat scary skull into a beautiful calavera. I added flowers, shapes, and a lot more color. My final step is to fill it with my delicious Kellogg Snack Packs.
Now I'm just trying to figure out how to get my entire neighborhood to celebrate Dia de los Muertos with me!

DIY Dia de los Muertos Dress/Costume
I spent a lot of time online looking for the perfect Mexican dress but in the end, I ended up with a mix of clothing that I already owned and after doing some thrifting at my local thrift shop. Here are some things to keep in mind when finding your perfect Dia de los Muertos costume:
Colors. While there's a lot of gorgeous black dresses, Day of the Dead is still about color so if you are choosing a black dress, don't forget to add in color.
Embroidery. A common theme among many tops is embroidered colorful flowers.
Lace. Find lace to beautify your costume.
Face make up. You may be able to find a temporary tatoo for your face but adding makeup around your eyes and some paint emphasize the eyes and mouth is also simple to do.
Flowers in the hair. Although I opted for no flowers in my hair, it adds beauty and tradition to the Mexican holiday.
For my costume I decided to keep it simple. I liked the black top to make my face make up pop. However, I made sure to keep lace on my sleeves and on my top. Embroidery lined my skirt and the bottom of my skirt.
How are you celebrating Halloween? What snacks are you adding to your candy basket? Check out this social hub here for more Kellogg inspiration!